SPENCER SHAW
Vegetation Restoration, Consultancy and Education
Spencer has worked in the native plant, re-vegetation and bush regeneration industries for over 25 years and is passionately committed not only to the preservation of rainforest through various eco-restoration works but also through education. Spencer writes articles about local flora and fauna for various publications and is a workshop and field day presenter for a variety of eco- restoration topics.
KAREN SHAW
 Nursery and Education
Karen is a teacher with over 20 years  experience and a strong passion for environmental education. She continues to enjoy sharing her love for the rainforest with many children and adults. Karen has provided environmental education programs to local schools, including  the Ananda Marga River school and coordinates the monthly BTE professional development workshops. In recent years, she has been the coordinator of the Sunshine Coast Kids in Action Conference – working with local schools to celebrate their positive actions through peer mentoring methods. When not collecting macro-invertebrates with kids or seed collecting, she is working in the BTE nursery.  Karen's main aim is to provide customers with a wide variety of healthy native plants and great customer service.
Our Fabulous Team
Jake Smith-Moloney – Bush Regenerator [Bachelor of Science (Environmental Science); Forestry Traineeship]
Jake could be described as a bit of a paradox. A nerd with a tan, part hippie and part scientist. Always serious but constantly laughing. Jake seems to have a habit of doing the right thing. His main aim is to do something positive, for the betterment of everyone.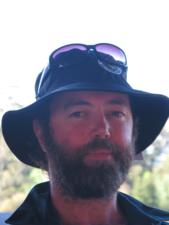 Jem Dunlop – Bush Regenerator
Jem is the happy musician. Jem is a music teacher with green fingers and he brings lots of great songs and stories to our work day. He has worked in ecological restoration in Victoria and Queensland. Jem is passionate about the environment and looks forward to a greener future for his young sons, Luke & Reuben.
   Nicole Geissler  – Bush Regenerator
   Mackenzie Thomson –  Bush Regenerator

Sam Newman – Administration & Nursery wonder-woman
Sam has been a turkey for the longest time – she was our first team member. Sam has an amazingly broad range of skills – administration and accounts; nursery work, seed collecting, re-vegetation and building/carpentry skills – quite a "Chick of all trades"! Sam has qualifications in small business management.