Our Wholesale Nursery – Healthy, sun-hardened plants
Brush Turkey can offer you a highly personalized, professional and friendly service – assisting you to select the plants best suited to your property or planting project.
Using our extensive local knowledge, we can advise a planting package for you with the best mix for your site. Our advice is always based around ensuring a positive, long-term result in a cost effective and ecologically sustainable way.
We now have 100's of different species to choose from and the list is growing all the time, literally! Our nursery can now carry over 80,000 tubestock, sun hardened and ready to plant.
Our stock includes: rainforest trees, eucalypts, and a range of shrubs, groundcovers, vines, grasses, wetland, riparian and coastal species.
Our Retail Nursery – Forest Heart
Forest Heart Nursery specialises in local native plants, Australian natives and fruit trees. We are located  in Maleny at 20 Coral Street.
Our Revegetation Products
At BTE we only sell products that we have  trialed  and use ourselves!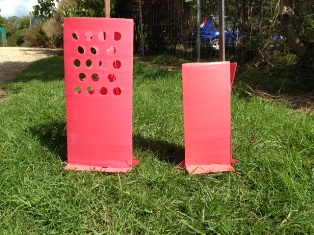 1.  Pink Tree Guards
We have been using Plant Pink Guards for 10 years and they are great  for promoting plant health and protection.  We like the Plant Pink Guards so much that we became a distributor. They are possibly the best guard available in Queensland (but then again we are biased!)
Benefits include:
High visibility –  makes them stand out immediately and easy to spot if weed growth gets away.
Durable construction – we have guards that are 5 years old and still in good condition.
Growth Promotion – the pink colour increases red spectrum light which promotes growth.
Weed Protection – when combined with the Recover mat provide great weed suppression.
Enhanced Micro-climate – great nurturing environment for seedlings, particularly rainforest species.
Protection – shields plants from grazing animals (to the height of the guard).
Stakes are made in Queensland.
Sizes: Guard 250mm x 250mm x 500mm Stake 13mm x 23mm x 750mm;  Guard 350 mm x 350 mm
Please Note: Guards may take up to 6 weeks to manufacture, so to ensure we can meet your stock requirements for large quantities, early orders are much appreciated.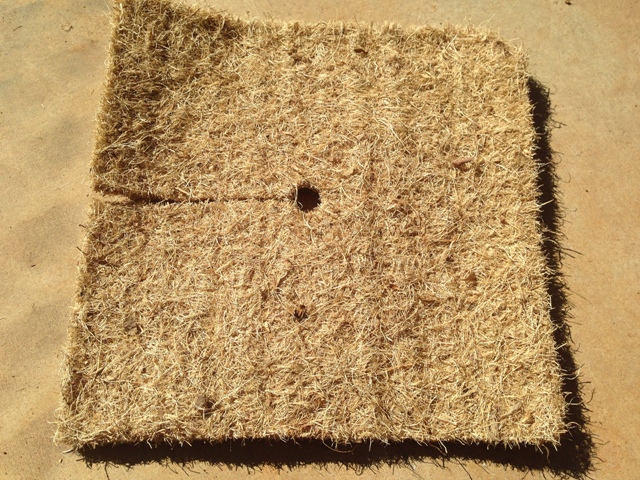 2. Palm Fibre Mulch Mats
Our favourite mulch mat is the Palm Fibre Mulch Mat, they are thin, light, durable and easy  to install and are great for suppressing weeds when used in conjunction with the Pink Guards. They are pre-slit for ease of installation.
Benefits include:
Durability  – long life weed suppression
User Friendly – light and low particulate matter.
Ease of transport -Bundled into packs of 100.
Enhanced Micro-climate -highly absorbent allowing rapid transfer of rain to soil
Sizes: 350 mm x 350 mm (In-stock);  500 mm x 500 mm (available on enquiry)
Please Note: Jutemat Mulch Rolls and Mulch Mat's also available upon request.
3. Bamboo Marker Stakes
To increase visibility of newly planted stock, you can paint the bamboo stake with a bright and durable paint.
4. Carton Guards
These budget guards are useful to protect the growing plants from spray drift and animal nibbles. Temporary protection  for very fast growing stock.
Should you require any further information or advice on the above products or any other revegetation products please feel free to contact Spencer on
0428 130 768  or spencer.shaw@brushturkey.com.au